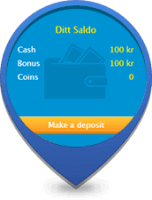 Imagine that you have made your first deposit and received a number of Bonus Spins as part of the active Welcome Bonus at the time. To keep things simple, let's say that you were able to earn 100 kr in bonus funds from your spins. Your account will now look like this. As you can see, you now have 100 kr in cash and another 100 kr in bonus money. When you begin to play, you always start playing with your cash first.
You start playing and after a little while, you hit a big win of 4,000 kr. Your account will state that you now have 500 kr in cash in addition to the 100 kr in bonus that hasn't been played. Since you have the option to withdraw your cash at any time, you can choose to withdraw your 500 kr cash using one of our provided payment methods. But please be aware that when you withdraw your cash at any time,
you will also forfeit your remaining bonus.